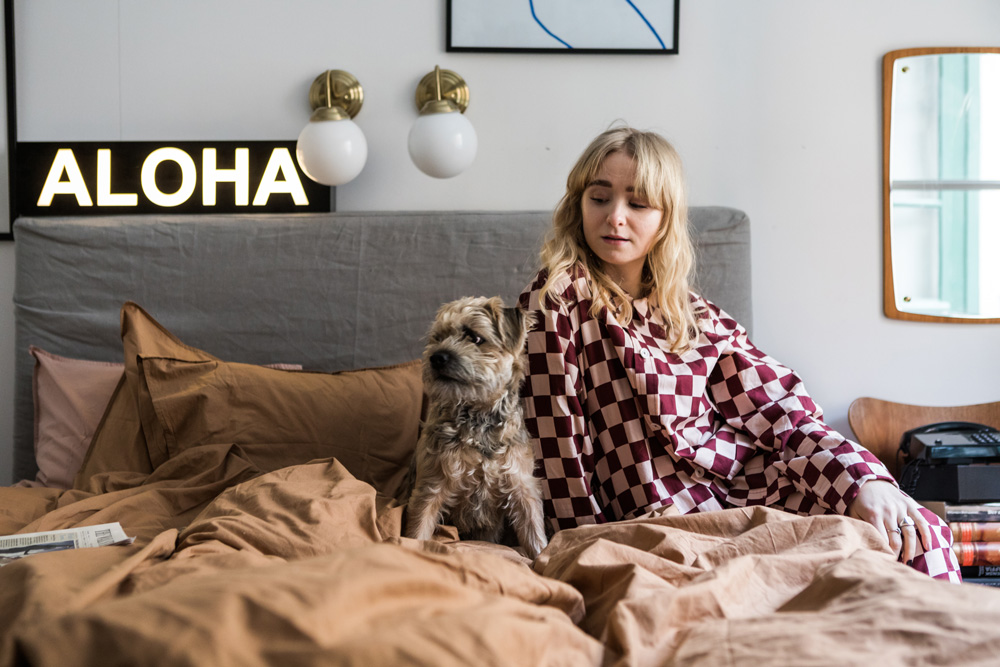 Podcaster, blogger and bag designer Fanny Ekstrand sure knows how to make a fashion statement. Her bedroom is not an exception. Open windows and total darkness make her sleep like a dead person, preferably next to her bed warmer, aka Rufus the dog. And not to forget, her boyfriend.
Fanny Ekstrand lives on Södermalm in Stockholm, she is the founder of Chene bags and runs the podcast Add to bag together with her bestie Viola Bergström.
Tuesday evening ends:
Probably around 22.00 but preferably earlier since Tuesdays are my worst day of the week. Don't know why but this day is so unnecessary I think.
Before turning off the lights:
I scroll Instagram, sue me!
I sleep in:
My Nufferton PJ's during winter and nothing at all during summer months.
I share the bed with:
My boyfriend and more importantly my dog who takes a lot of space for being a small dog. But he is so cute, so he gets away with it.
On my nightstand:
All of my jewelry (right now I'm obsessed with fruit shaped earrings) my favorite Aesop hand cream and some magazines.
On my boyfriend's nightstand:
His snus and an old telephone.
My best tip for a good night's sleep:
During summer I love sleeping with the small window in our bedroom open, the smell of summer and the blossoming trees in our yard is the best. But any other time of the year total darkness makes me sleep like a dead person.
Keeps me awake:
Unpaid bills.
My version of counting sheep:
Historical podcasts. I love them when I am alert but when I can't concentrate they are a sleeping pill for sure.
My best midnight snack:
Toast with a lot of melted butter and tea.
I last dreamt about:
Somebody else planning my wedding. Can you imagine that with the glasses of a detail maniac? Just the worst.
My evening beauty routine:
I wash my face twice, with a gel first and then a micellar water and after a couple of serums I always put on a night mask with lots of moist.
Favorite bedroom feature:
Besides my company I really like my bed lamps surrounded by my favorite art at the moment. I like when the bedroom have a more well-thought out look rather than just being a room that you sleep in.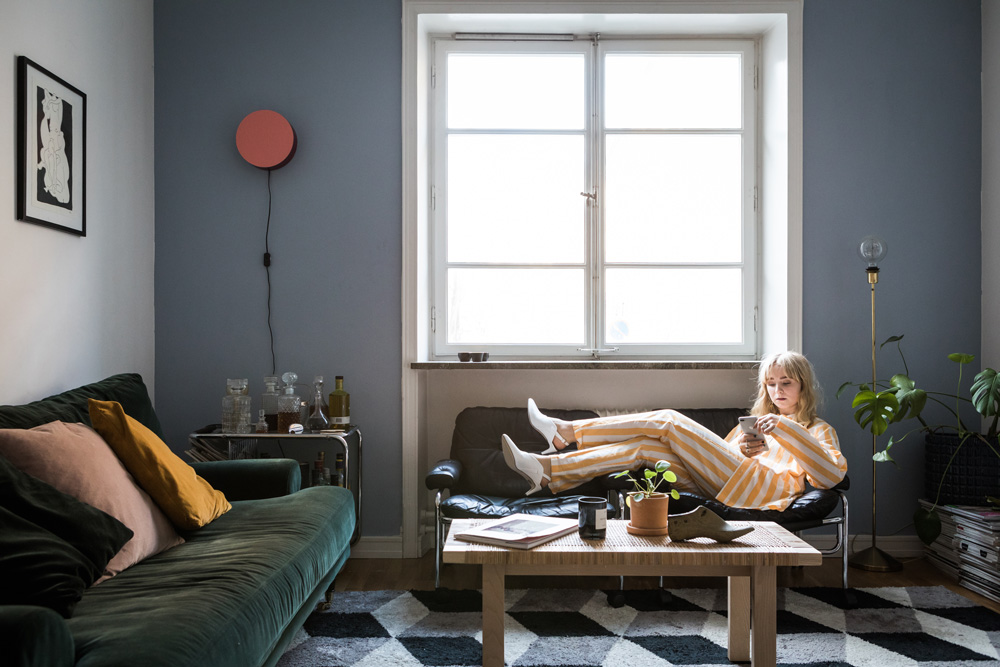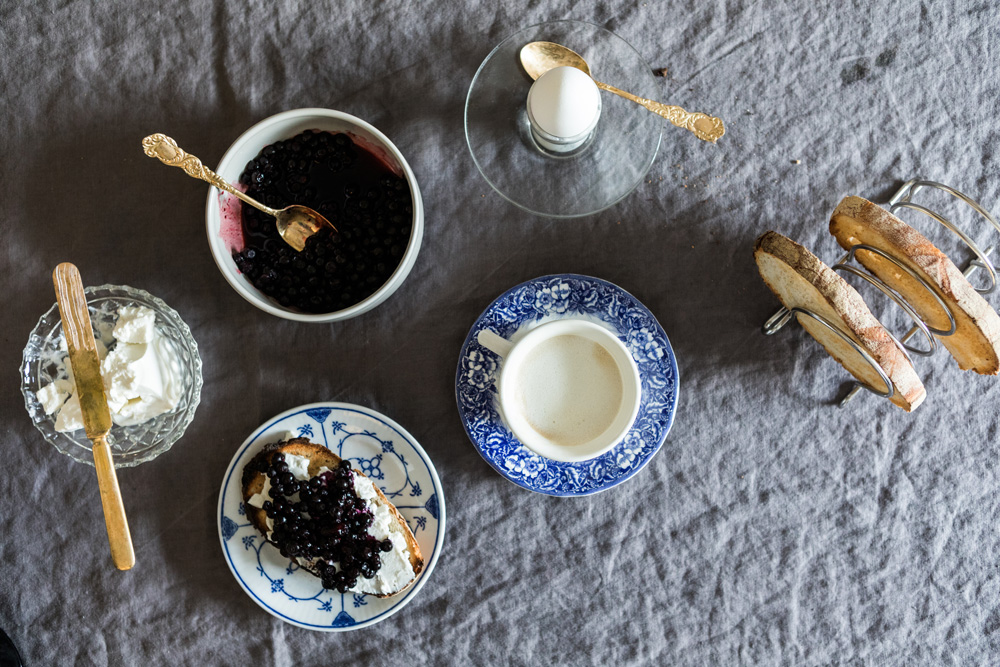 Wednesday morning starts:
Probably around 09.00. I am freelance so getting up before noon can sometimes be a challenge. But I always start my morning with a coffee and a long walk with my dog. After that I take care of my inbox.
TMy alarm sounds like:
The bells of hell.
The first thing I see:
I guess the first thing I see is the dog, Rufus. He likes sleeping among the many pillows we have in our bed. He is not a very shy dog.
My morning mood:
Depending on the weather, my morning mood is pretty good I must say.
Everyday breakfast:
Soft boiled eggs, coffee and a sandwich with ricotta (sometimes also blueberries) or butter and cheese.
Birthday breakfast:
Always cake! And lots of strawberries. My birthday is in August.
A dreamy weekend morning:
I wake up hopefully not too hangover. I go out to buy some bread at the bakery a few streets away and then run home to make coffee with lots of oat milk foam. I always listen to radio so the radio is most definitely on as well. After setting the table, and having a cup of coffee, I wake my hopefully not too hangover boyfriend and we have a slow breakfast that ends with one or two spoons of Nutella.
Morning beauty routine:
My morning routine has to be super quick since I am the worst at estimating time. But it usually goes like this: serum, face oil, moisturizer, some concealer, a good blusher, some brow gel, mascara and then I finish off with a face mist. If I got 1 minute more I put on some pink eye shadow which I really like right now.
My do's and don'ts when making the bed:
I don't want it to look too well done, so I usually just throw some stuff around and finish off with two gigantic pillows.
Also, we just have to ask…That old school telephone of yours – does it really work?
It might! But I've never plugged it in so I wouldn't know.
Text by Josephine Blix
Photo by Mikael Lundblad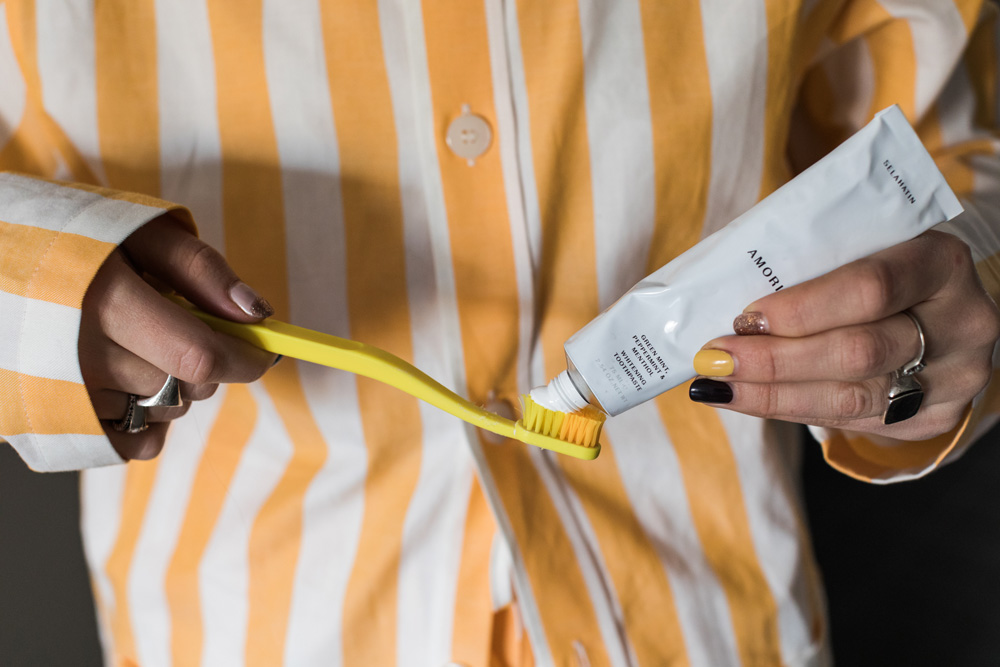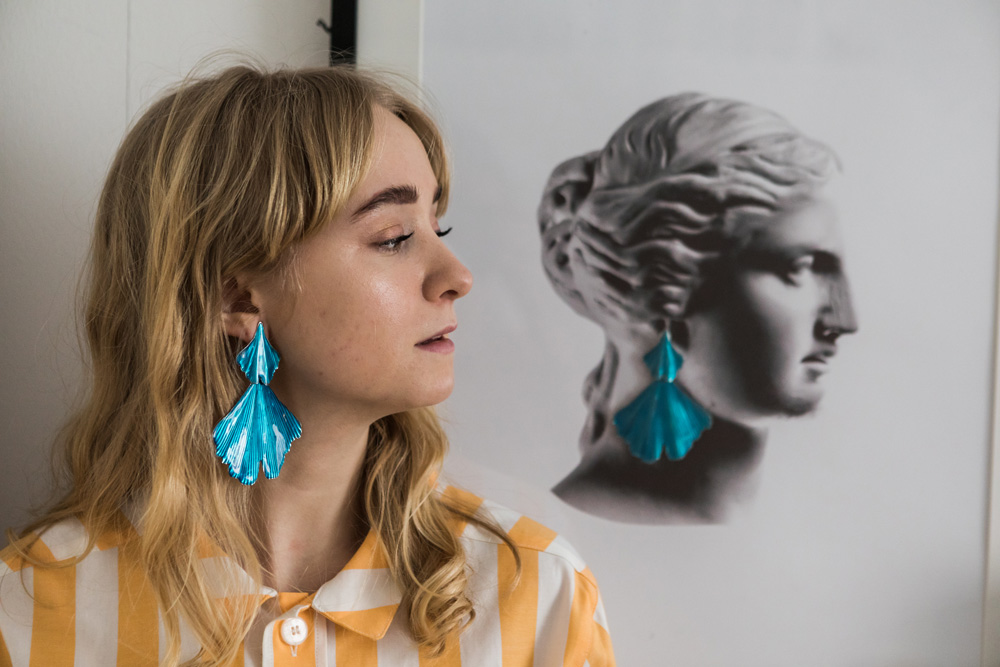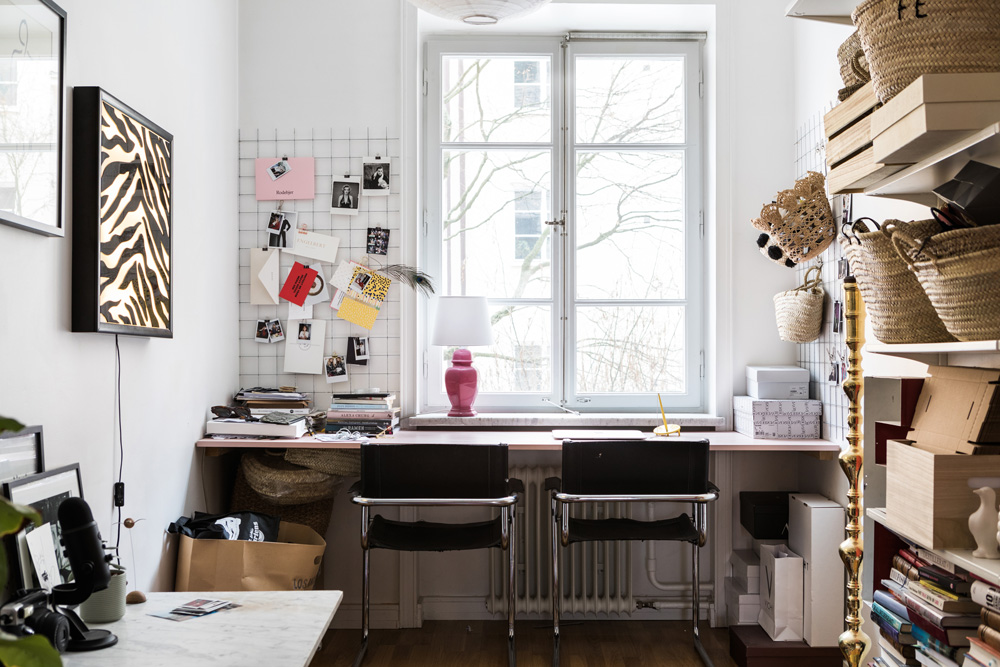 Shop the look