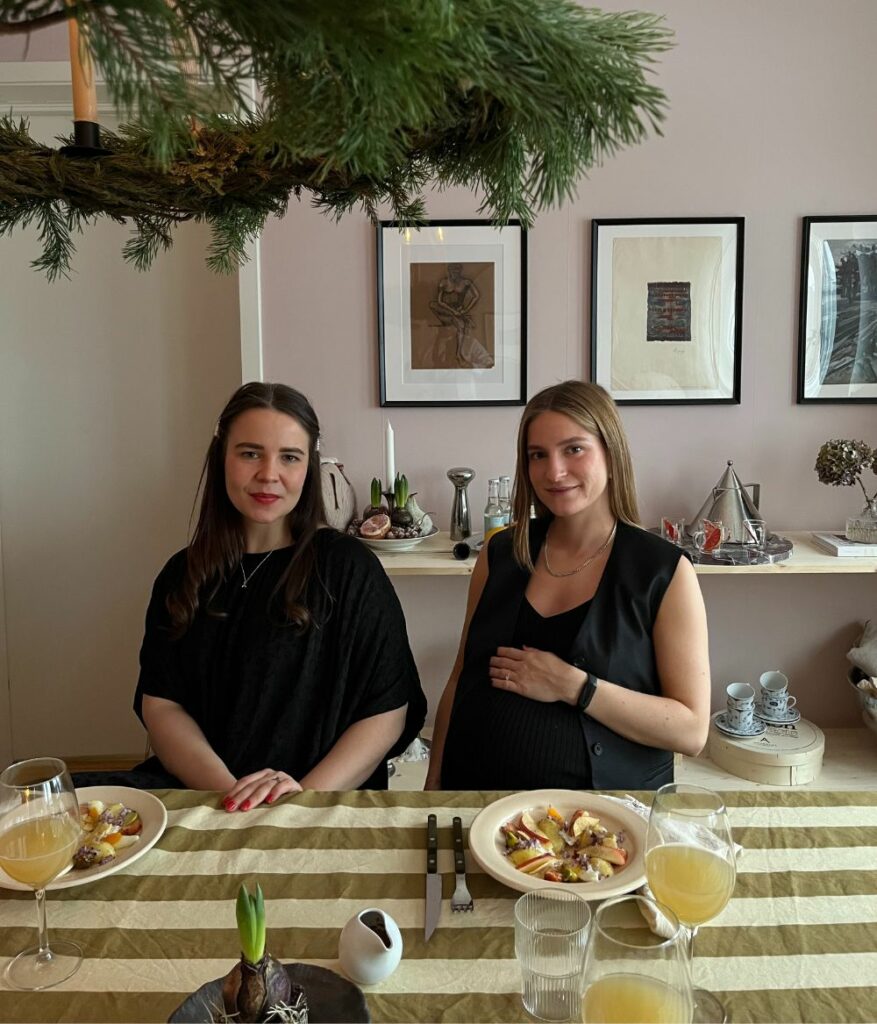 For us, Christmas means traditions, but with that said – there's always room for some new inspiration and updated classics regarding food and sweets around this darling holiday. So, we asked two of our favorite foodies on Instagram to share three of their favorite Christmas recipes. This is Pinar's and Sarah's Christmas delights.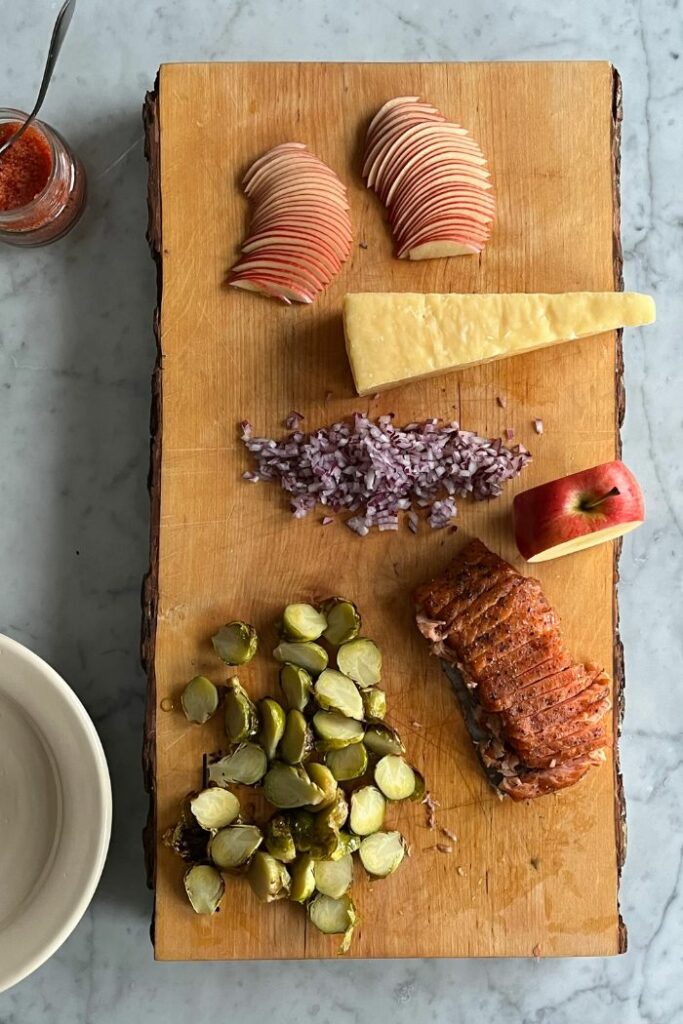 Wreath of salmon
"The first time we cooked together, we planned for Christmas crafting and a traditional herring lunch. We made a herring wreath and got the idea to make an alternative for those who don't like herrings (Read: our boyfriends). If you remove the salmon and replace the fish roe with tong caviar, you also have an excellent vegetarian alternative.
We like that this course is very "low effort high reward", i.e., easy to prepare but super tasty and luxurious! A plus is that most things can be prepared in advance, hopefully reducing some Christmas stress!"
Ingredients:
Smoked salmon
Boiled and peeled potatoes cut into wedges
Medium boiled eggs
Fish roe / or tong caviar/sauce (sour cream+rum)
Apple slices
Finely chopped red onion
Roasted Brussels sprouts
Västerbotten cheese
Browned butter flavored with lemon (zest+juice)
Black pepper
Preparation:
Add the already prepared ingredients by placing them so that a beautiful wreath is formed. Drizzle over the browned lemon butter and finish with black pepper.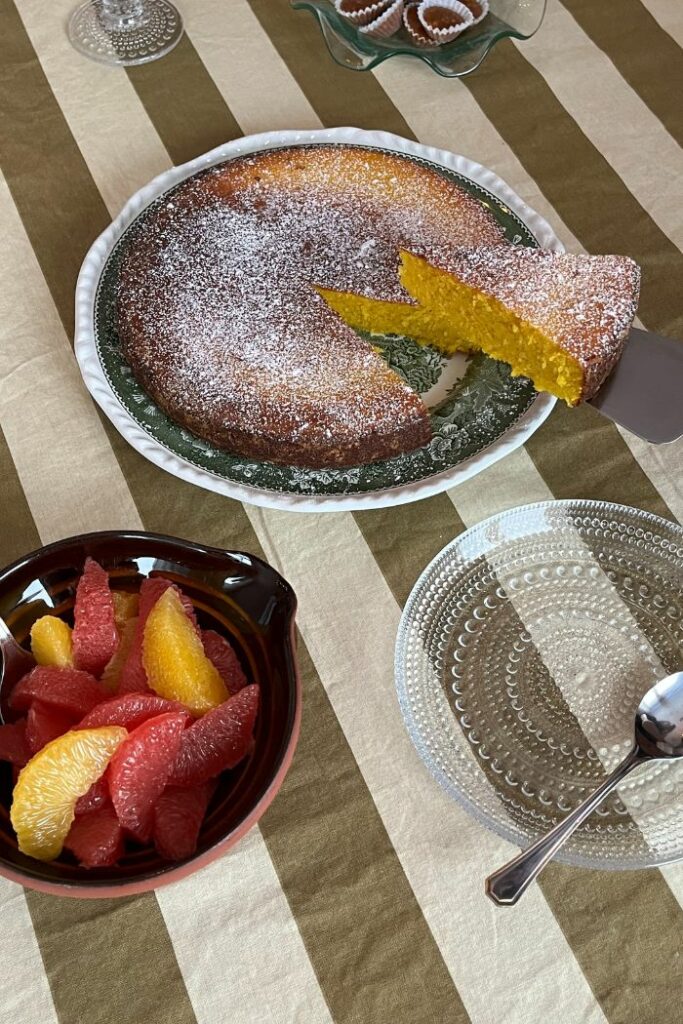 Almond & ricotta saffron cake, served with lightly whipped cream and citrus fruits
"Almond and ricotta cake is a favorite for both of us after we ate a delicious one at restaurant Emmer together! So to make a Christmas version felt obvious to us. This cake is also easy to create different variations of. This summer, Sarah had wild cherries in the batter, and Pinar made a variation with browned butter and served it with Amarone cherries."
Ingredients:
4 dl almond flour
0.5dl cornstarch
1 tsp baking powder
0.5 tsp salt
3 eggs
2 dl granulated sugar
100g butter
0.5g saffron
250 g ricotta
Icing sugar to sprinkle over the cake
Lightly whipped cream
Grapefruit & orange, peeled and fileted
Preparation:
Set the oven to 200°C. Beat eggs and sugar in a bowl.
Mix the rest of the dry ingredients in another bowl and stir in the egg batter.
Melt butter in a pan and add the saffron. Allow cooling before mixing the ricotta into the butter.
Prepare a spring form/pie form with butter & almond flour. Pour the batter into the mold and bake for about 30 minutes, or until the cake has a lovely color and the test stick is dry.
Allow the cake to cool completely before sprinkling it with icing sugar.
Serve with lightly whipped cream and filleted citrus slices.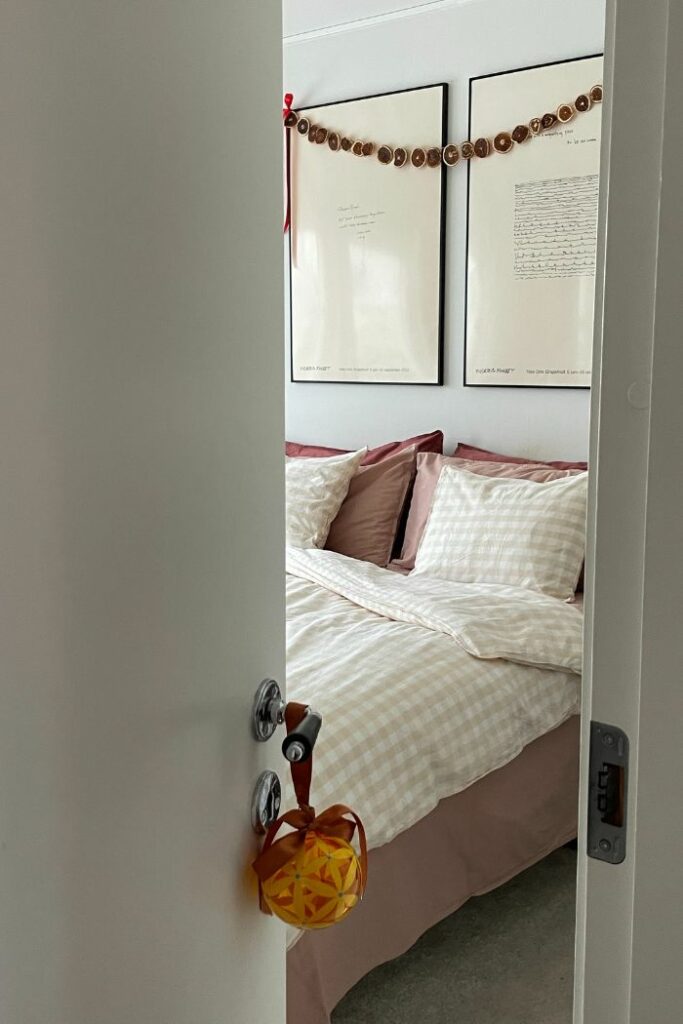 Christmas rice pudding with skimmed milk, syrup & cinnamon sugar 
"Rice pudding, or Santa porridge as I, Pinar, prefer to call it, has been a great favorite since my school years. However, it took on a more significant meaning when I started to celebrate Christmas with my in-laws. My mother-in-law makes the best Christmas porridge! She gets up at 5 am on Christmas Eve morning to start cooking the porridge in her finest cast iron pot, puts it in the oven on low, then goes back to bed until it's time to eat at 9 am. Then she sets the table for Christmas with her best china, and the whole family eats in pajamas and cozy nightgowns. It is the highlight of Christmas for me.
I learned that Sarah had not been very fond of rice porridge before, and I was thrilled that she liked the Christmas porridge we ate together! So much it will be a standing tradition at her house in the future too!
Cook according to your recipe, but the trick is to serve the porridge with warm and skimmed milk, syrup, and cinnamon sugar. The porridge gets a crunchy caramel taste from the syrup, and the foam makes it extra nice!"
---
Pinar Bakirdan
Age: 30 years
Occupation: Runs the Instagram account @petite.foods and works as a UX designer. Currently on parental leave with her newborn baby.
Celebrates Christmas: "Usually we are always with my in-laws, but this year we are at home in our apartment alone with the baby. So I've been searching all these flea markets looking for Christmas decorations, so cozy!"
 
Sarah Eriksson
Age: 30 years
Occupation: Runs the Instagram account @enmatgladtjej; currently on parental leave and setting up a new studio. Stay tuned! But initially, she's a plumber.
Celebrates Christmas: "At home with my husband, our daughter Stella and our families. Usually, we start Christmas Eve by going to Södermalm in Stockholm and meeting friends at Nacka Skoglund's memorial. Then we have a beer and hang out for an hour before our families drop in at our house just in time for Donald Duck on the TV. I am overly excited about celebrating the first Christmas with our daughter."
---
Recipe och images by Pinar Bakirdan and Sarah Eriksson
Shop the look