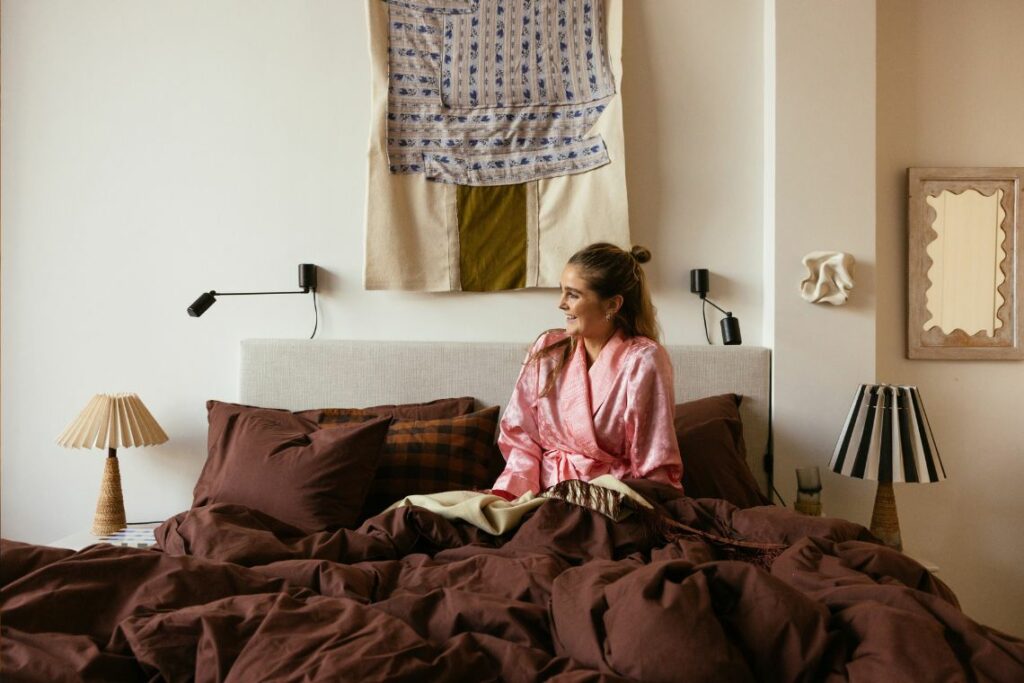 Calling Linnéa Salmén a fashion-forward interior stylist is simply not enough. The words "Genius" and "Artist" must also be in the description. Who else would serve you a bread Prada bag with butter and cheese for brekkie? A few weeks back, we had the great pleasure of visiting her studio home in the suburbs of Stockholm, and for obvious reasons, we never wanted to leave.
My house: An old artist studio from the 50s in Blackeberg, Stockholm.
We live here: Linnéa, 33, and Mange, 34.
What I do: Interior stylist.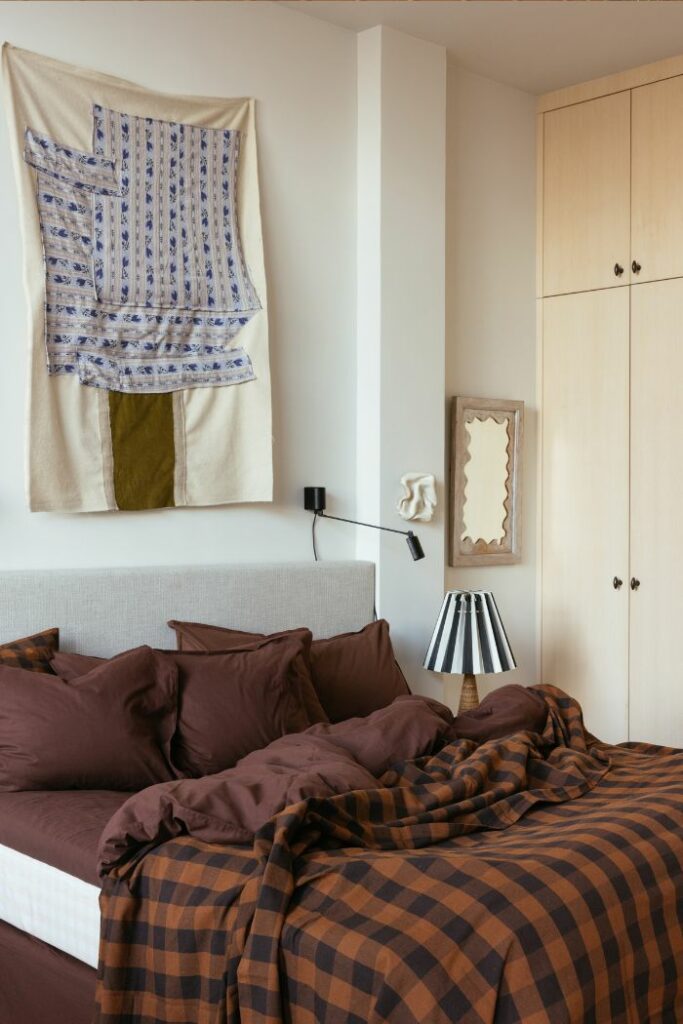 Tuesday evening ends at: I usually pass out on the couch at 9.30, 20 min into a movie. I have seen so many 20 min movies.
Before turning out the lights, you always: Drink water like an old lady.
Who/what are sharing your bed: My +1 who also loves to sleep – Mange.
Normally you sleep in: As little as possible. I wear clothes during the day, though. I want skin to fabric, not fabric to fabric, if that makes sense.
The last dream you remember: I often dream about getting hunted by different idiots, and then (in the last second) I fly away and manage to survive. Almost like real life, hehe.
On your night stand, we will probably find: Lots of empty water glasses.
Your best tip for a good night sleep would be: Fresh bed linen, of course, think about a creative project or something you dream about in the future. I try hard not to think about solving problems or things that worry me.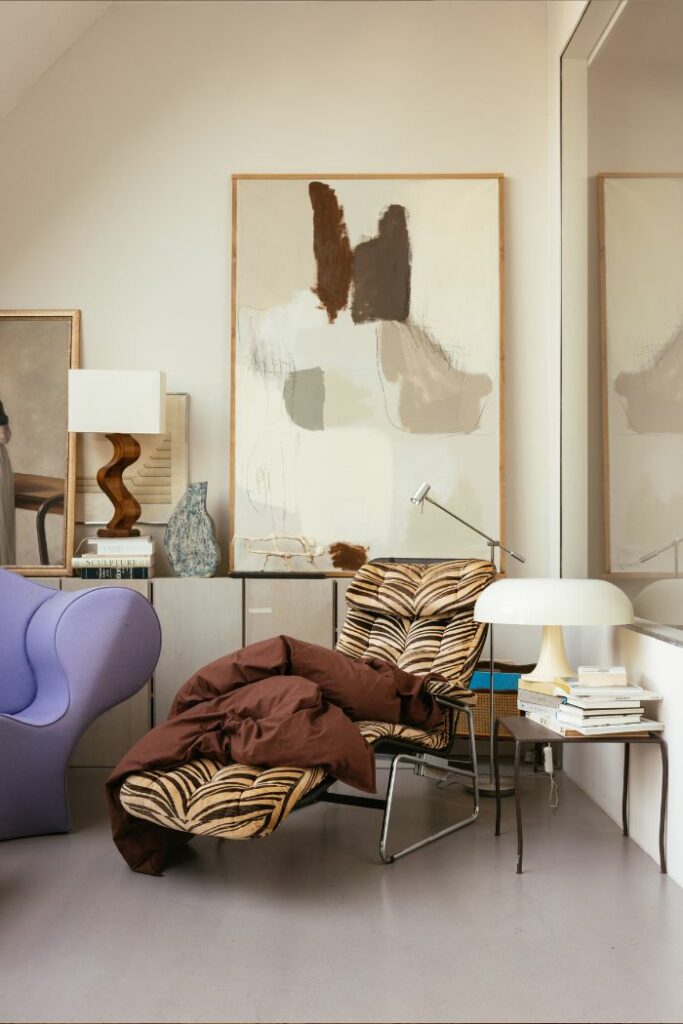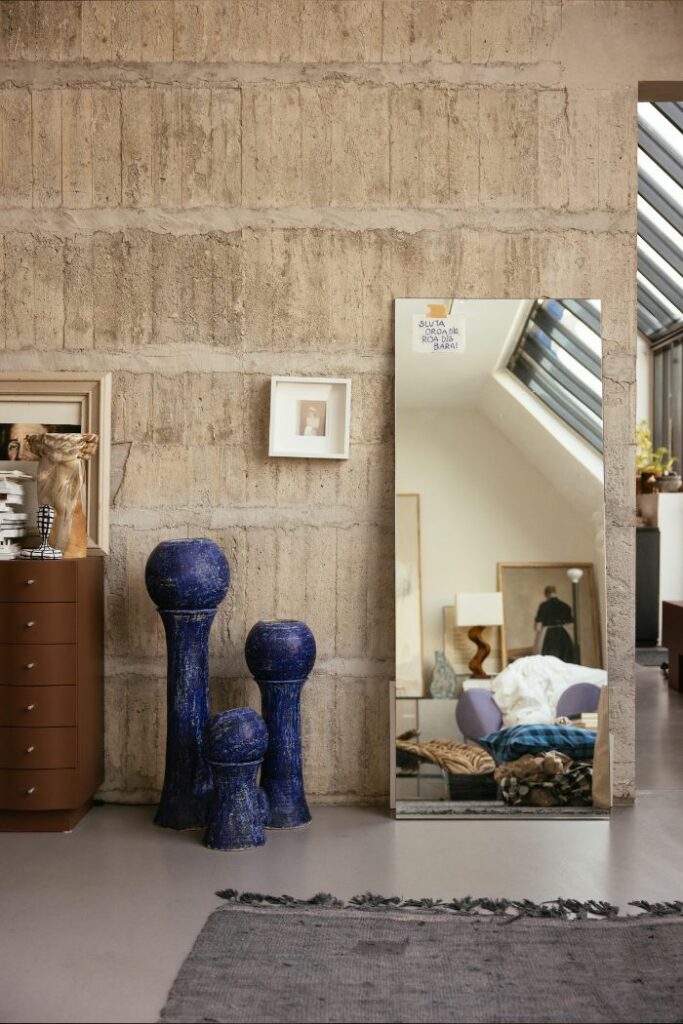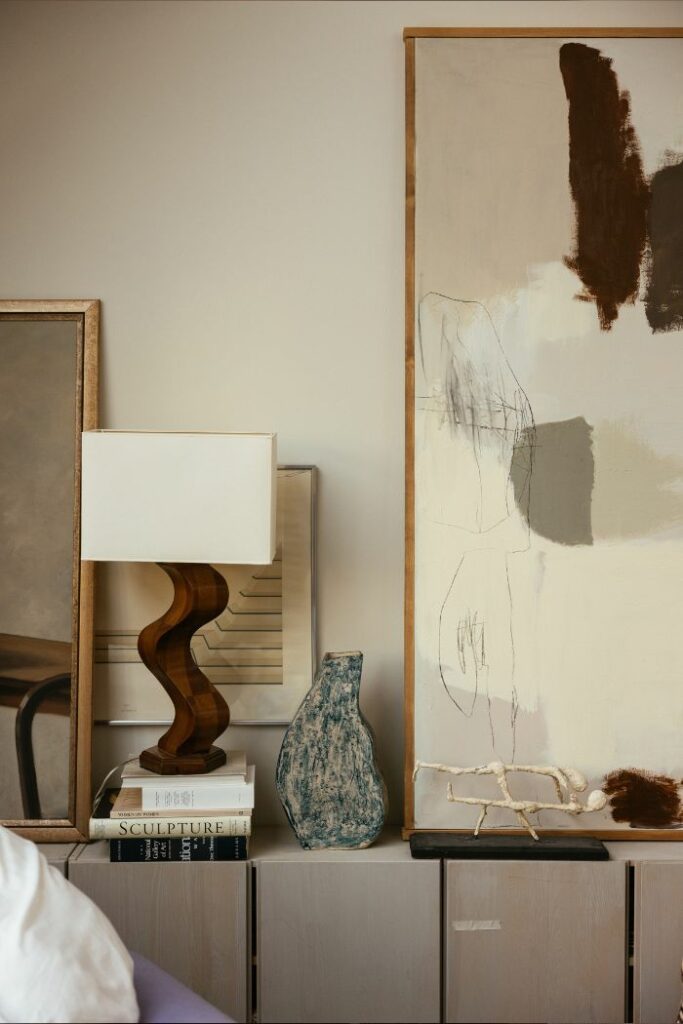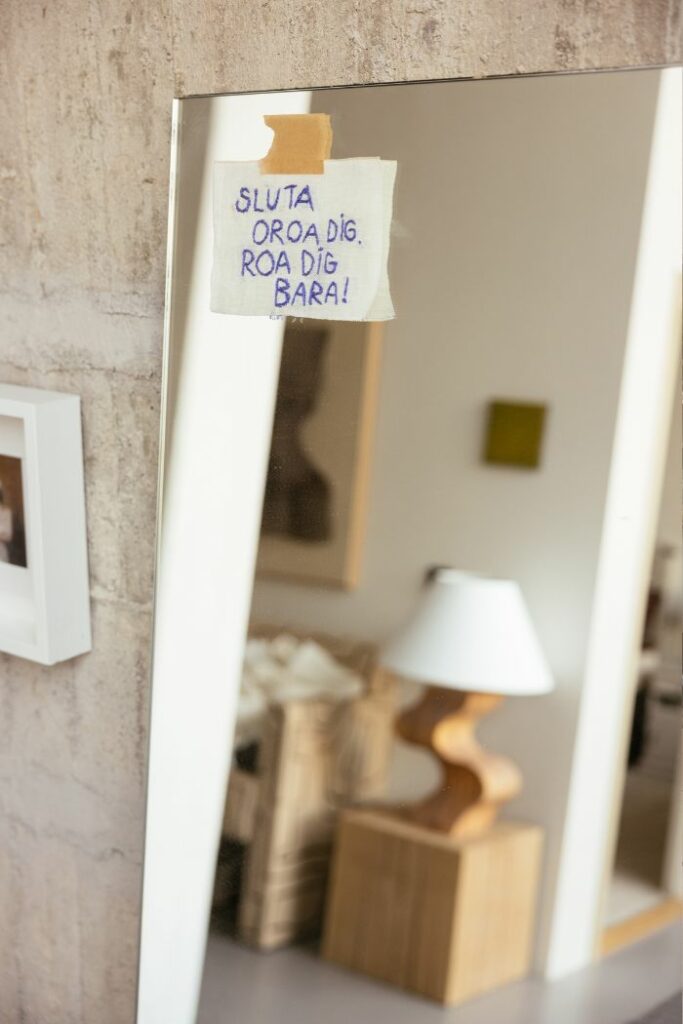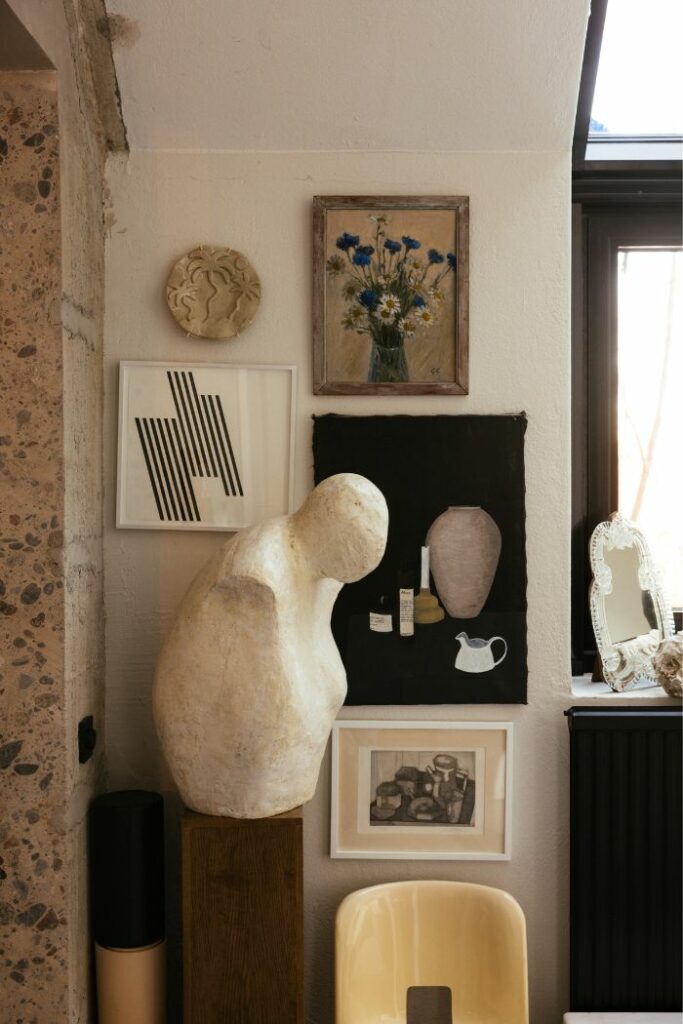 Your evening beauty routine includes: I'm sleepwalking into the bathroom, wash my make-up off, and brush my teeth. A night mask if I have the energy. Then I pass out.
This keeps you sleepless at night: Thinking about stuff I have to do, people to answer, that person I have to call, the bill I have to pay. Always that f-ing bill.
Instead of counting sheep's you: Watch The Office in bed for the 124234 time.
The best thing about your bedroom: It gets totally dark and it's so silent. Both Magnus and I are quiet sleepers. It's like a cave with two dead people in it, *in a nice way*.
Your best midnight snack: I grew up with a mom screaming FIIIKA at 21.00 every night, which was a sandwich and tea. So sandwich and tea.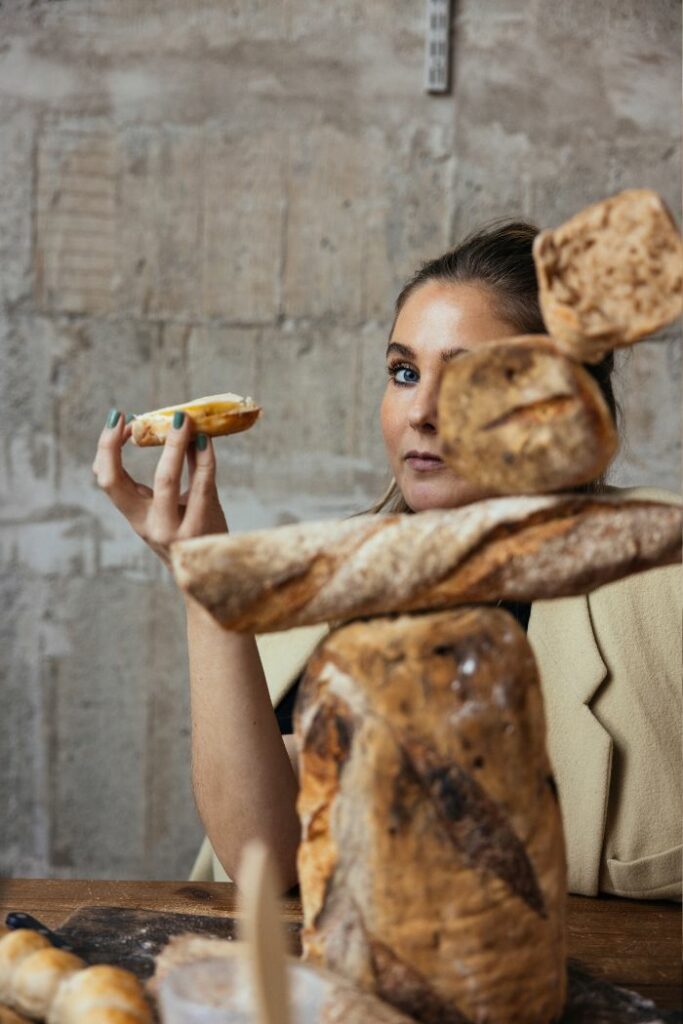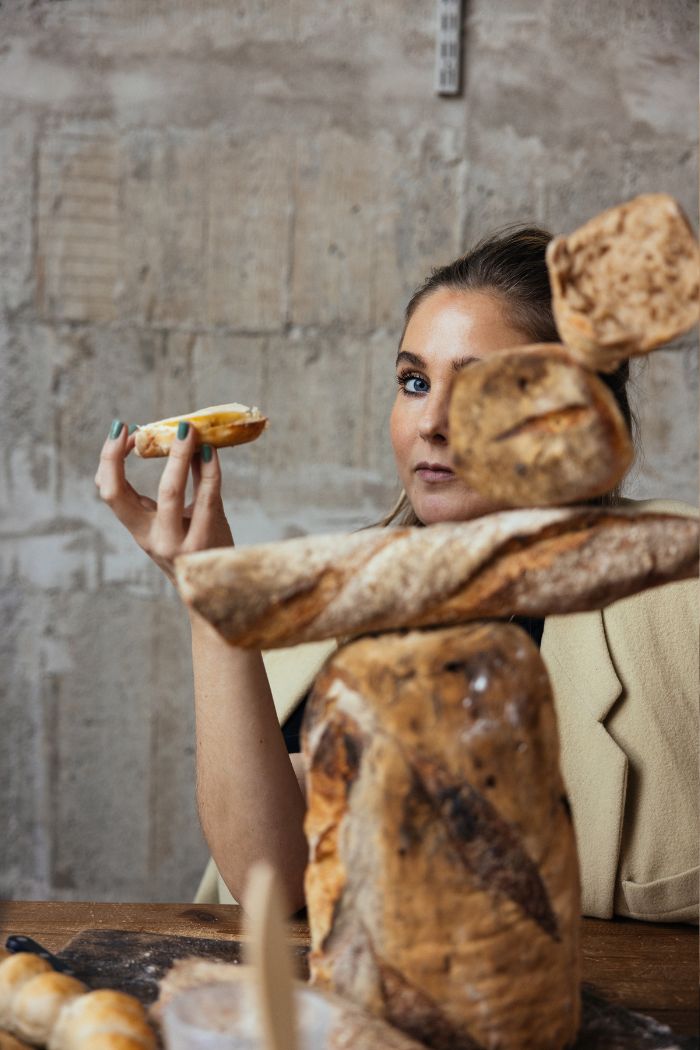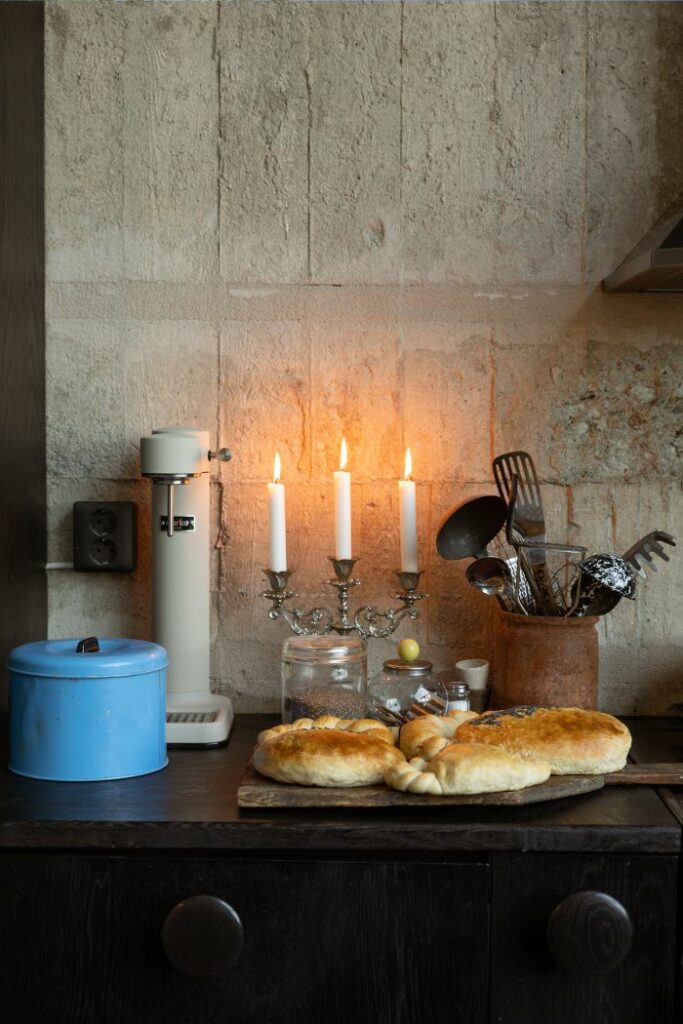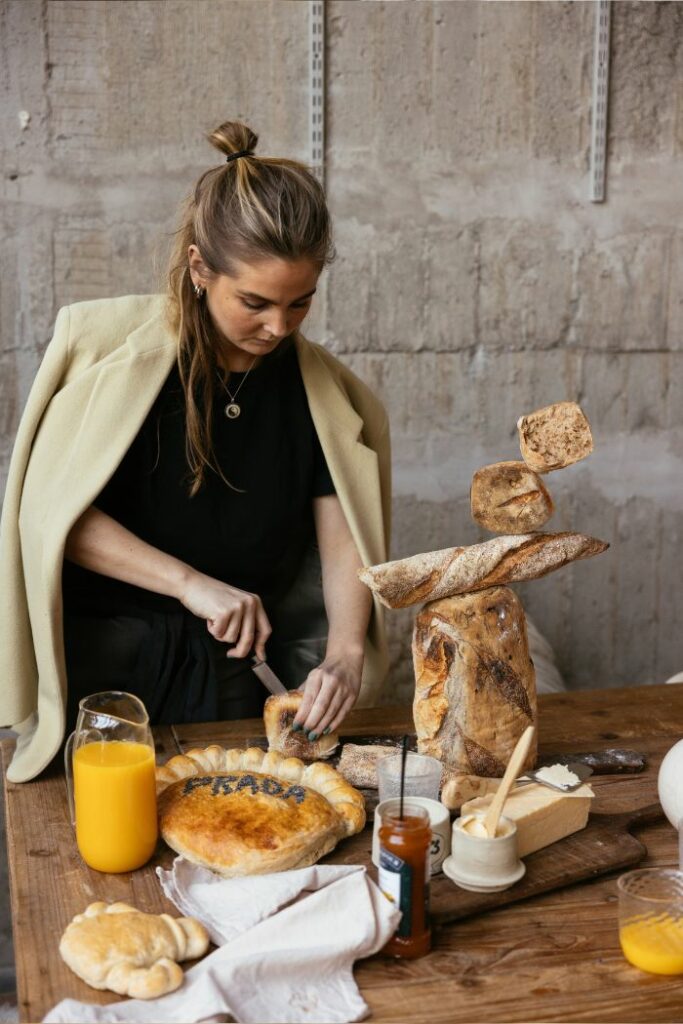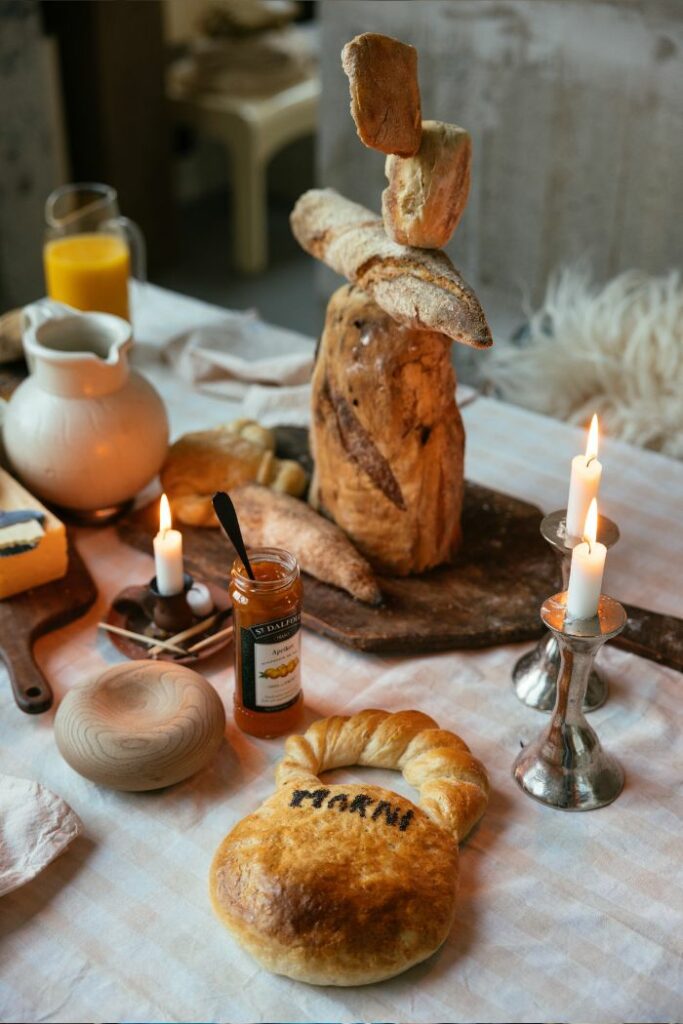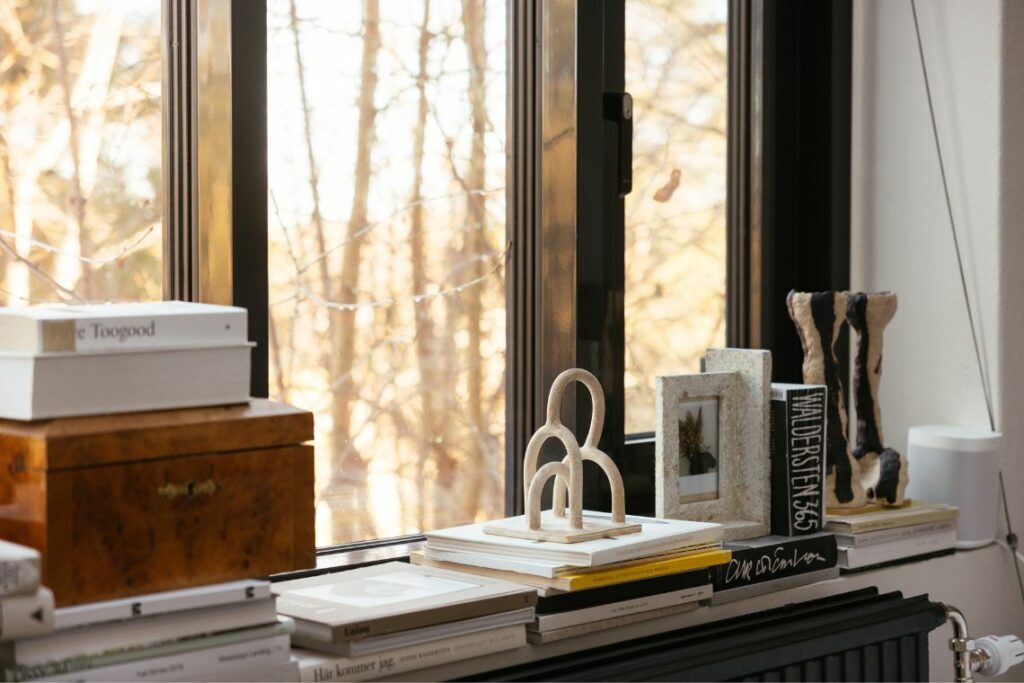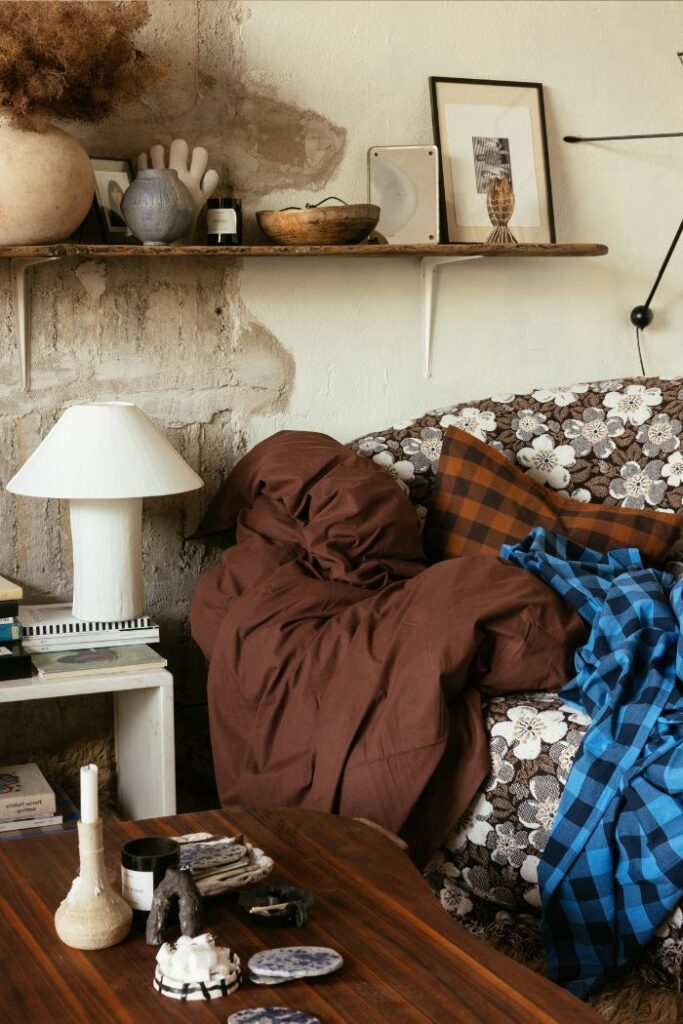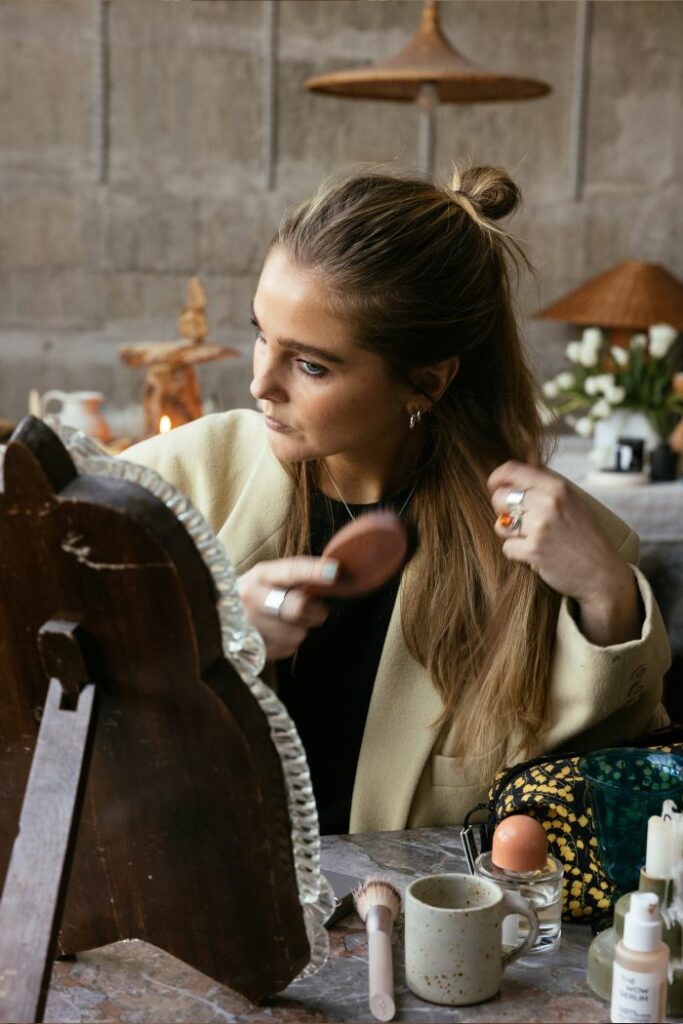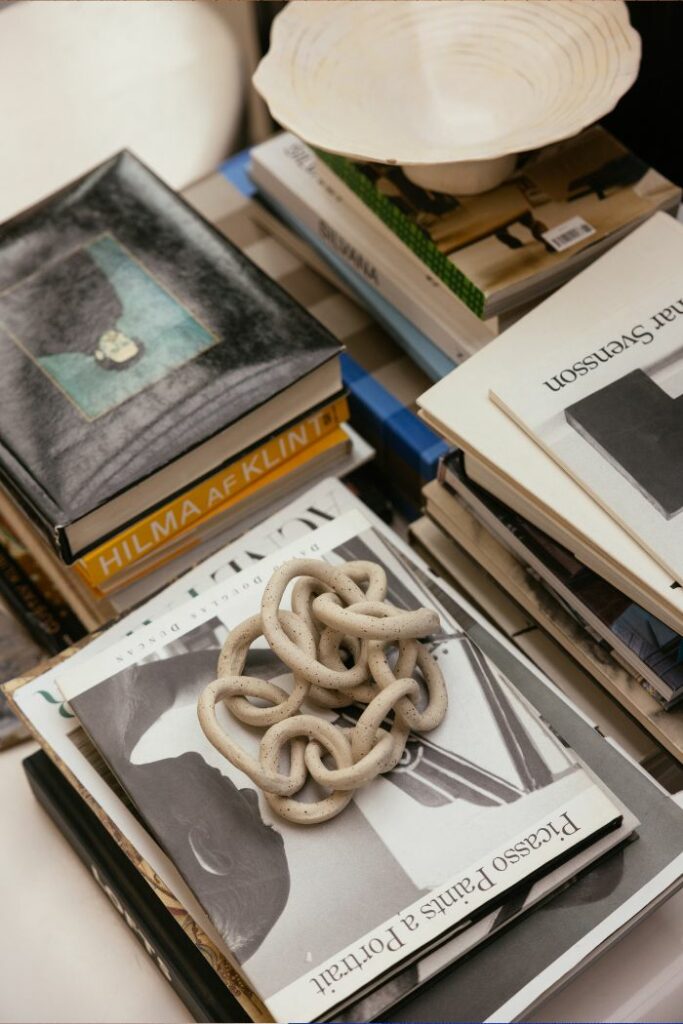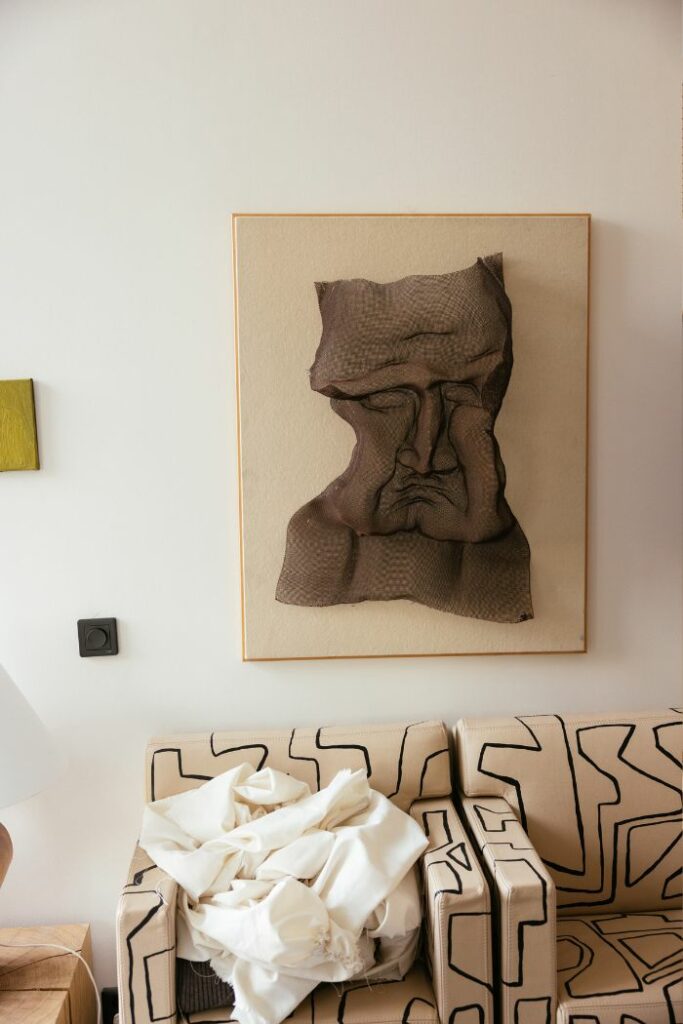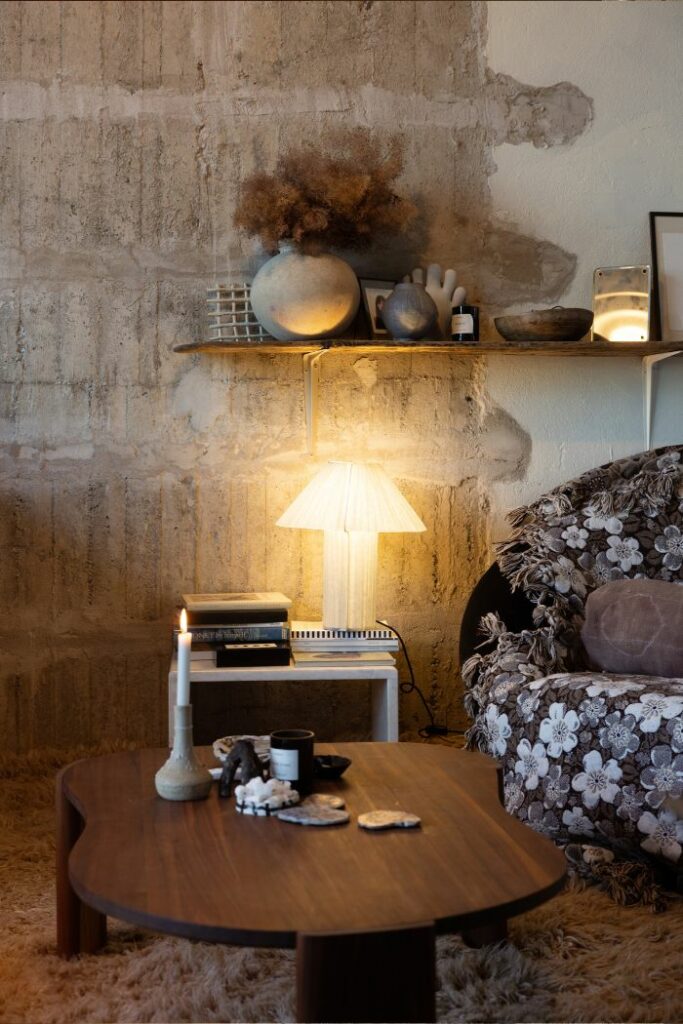 Tuesday morning starts at: We are both freelance, so it depends, but mostly around 07. I wait until 07.05 cuz I like my coffee served.
Your alarm sounds like: A horror movie, the worst alarm ever. I have to change it now.
The first thing you see when you open your eyes are: It's just black, I can't even see my hand. I try to feel if Mange is still in bed or up making coffee.
Your morning mood could be described as: Happy but quiet; we don't say much until the coffee kicks in.
A normal breakfast would be like: 5/7 days a sandwich with hummus and coffee with oatmilk. Snus. Sorry mom.
Your birthday breakfast should be like: The sourest sourdough bread, marmalade, and cheese, also something bready and sweet, cinnamon bun or croissant. Bread on bread.
Your morning beauty routine includes: Under eye pads from the fridge while having coffee, a shower, different oils and face creams my little sister told me to buy. She is really good at beauty, and my unpaid make-up artist.
A dreamy weekend morning could be like: Early morning in the garden, eating breakfast together, planning what to cook for our friends at dinner.
My dos and don'ts when making the bed: I hate to do it by myself, bring help if possible. Lots of pillows, even if I sleep on my arm. I have to moods, lots of color and patterns, or just one calm color and feeling.
Also, we just have to ask, did you nail those fashionable bread bags on the first try? Of course not, writing with poppy seed is not easy. I threw away a burned fake bag spelled Prda, too obvious it was not real.
And… What is your most frequent question in Instagram DM? My flea markets go to's? Na-a. Never. This is what I work with, it's called confidential data (I have learned from my office-job-friends). I will write it on the inside of my coffin. Come join me when it's time.
Text by Josephine Blix
Photo by Mikael Lundblad
Shop the look